My journey with Jesse and BYLR began when I hired him as the keynote speaker at my firm's annual Kick-Off meeting in January, 2018. As he was up there speaking to our employees about the different buckets in their lives, I actually felt as if he were speaking to me directly. I was the quintessential suburban, working, do-it-all mom.   The more he spoke about the Happiness Meter the more I realized that I had lost myself along the way.  
After his presentation was done, I had the opportunity to speak with him one on one and we instantly clicked. When he asked for my thoughts on how it went, I responded that the talk was great and it made me really take an intense look at myself. I realized how out of balance my life had become and just how much I was under-indexing in every single bucket he had addressed.  
Jesse mentioned that he was launching a brand new course to help people achieve their goals and optimize their life. He said that he felt I would really benefit from taking the course. (I don't think either of us knew just how true that statement would prove to be!) He said he'd send me the info as he'd love for me to sign up for the inaugural course. We exchanged contact info to follow up with and I walked him out of the venue. That was the first time I heard about Build Your Life Resume and I had no idea just how life-changing it would be for me.
As excited as I was to get the invite join, I was also extremely hesitant and overwhelmed with the "mom-guilt". I had never spent money for a program like this on myself as all of our dollars were allocated for our kids. After a few email exchanges with Jesse, I knew this was something I absolutely needed to do for myself.
GET STARTED WITH
30 DAYS OF EXCELLENCE
ENTER CODE "30FOR30" AT CHECKOUT FOR 50% OFF YOUR FIRST MONTH
Over the four months, the eight calls, workbook assignments, and the Facebook group, the members and Jesse all began to bond as a community while enriching our own personal lives. It was amazing how this group of complete strangers could come together and form a visceral connection to the BYLR principles, philosophies, and to each other with Jesse leading the way.
The course was incredible. Each month was a new lesson. The thing I found the most amazing was that nothing that Jesse was saying was earth shattering. It was things we knew and had even forgotten about that he would remind us of, or it was his take on it - the Jesse way - that made it REAL, digestible and actionable. Plus Jesse actually followed all of this principles every day. He was consistent and honest. He was leading by example. I began to use his BYLR principles in every aspect of my life and my life and my relationships simply got better.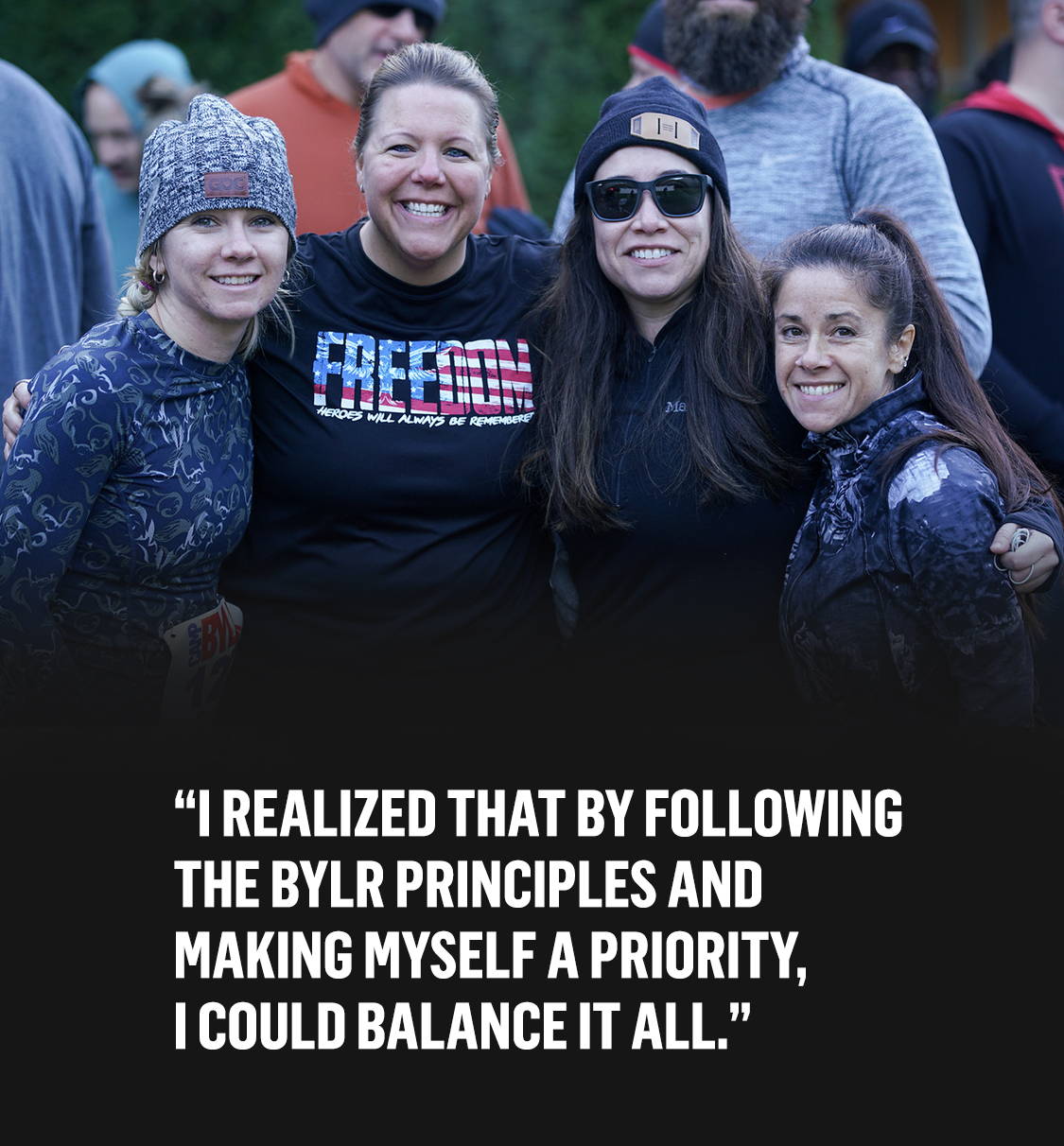 GET STARTED WITH
30 DAYS OF EXCELLENCE
ENTER CODE "30FOR30" AT CHECKOUT FOR 50% OFF YOUR FIRST MONTH
It was the first time in 15 years that I had not put myself aside for someone/something else. I realized that I COULD do both. I could make it work. Was it easy? No. Was it doable? Absolutely! That was the moment of the shift for me. I realized that by following the BYLR principles and making myself a priority I could balance it all. Within that balance I found myself becoming happier, healthier and just a better version of myself.
I now realized that I could absolutely accomplish anything I wanted to if I just believed in myself - AND - I had the most amazing support system of like minded people to help me. This community has turned into some of my most important meaningful relationships. These strangers from just a few years ago are now my go to's. They are my family.
All of the lessons I had learned in the BYLR programs set me on a path where I have become the version of myself that I forgot existed and I continue to grow and evolve. My goal in life became to help people optimize their life in the way that I have over my journey.
When Jesse called me in early 2020 and offered me the opportunity to be an Accountability Coach in the BACC program I was floored. I don't think he even got the words out and I said YES!! To have the chance to help others follow the Build Your Life Resume principles while using the Calendar as a vehicle to track their progress has been so fulfilling. Helping people identify and plan out their goals, see them accomplish their Misogis, their experiences ie Kevins Rule trips etc gives my life additional meaning. It brings me an "added level of happiness".
I have accomplished so much more in my life in the last 3 years that I ever thought possible. I see my daughters applying BYLR principles in their daily lives, that they have picked up from watching my actions, and that makes me very proud. They were doing conditioning for volleyball one day and the trainer was pushing the team hard. Girls were quitting, some were throwing up, but my 2 were hanging in and completed each activity. When we were driving home I said to them - I can't believe you guys were able to keep going. They said - "it sucked but we just kept telling each other what you say - we just have to get to the whistle. It wasn't going to last forever - it would end with the whistle so just keep going to the whistle." That was a proud Mom moment!    
I have realized that making myself a priority and building MY life resume doesn't make me selfish or less of a mom etc. It actually has made me a 100% better Wife, Mother, Daughter, Friend, Sister, Boss, Employee etc.   I even completed my own Misogi in September 2020 and am now a certified Yoga instructor. Something I would never have done had it not been for BYLR/BACC. I don't dream - I plan.   I have a new relationship and appreciation for time. I live in moments not minutes. I welcome getting comfortable being uncomfortable. I have no zero days. I strive for constant forward motion - constantly moving the needle.    
By following the BYLR principles I live an amazing life of balance, health, happiness, love, experience, service and gratitude now.   I SHOW UP EVERY SINGLE DAY. Thanks to Jesse and the Build Your Life Resume program, I have not only found myself, but I have upgraded to Laurie 2.0. Plus I get to help others do the same!! I mean really what could be better than that! :)
Want to Experience a One-of-a-Kind Life Coaching Program? Join 30 Days of Excellence Now!
ENTER CODE "30FOR30" AT CHECKOUT
FOR 50 % OFF YOUR FIRST MONTH